Jan Dekkers
(Breda 1919 - Gieterveen 1997)
---
His father was a manufacturer of strongboxes in Breda. Young Jan was already noticed for his drawings. So he went to the Jan van Eyck academy in Maastricht. There he learned the old real skill of art with much anatomy.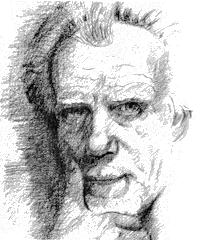 After the academy he found work restoring churches: tabernacles, wallpaintings, windows. When church visit faded he had to look for other work and became first press sketcher and later foreign correspondent.

In Hamburg and Bremen he got interested in the building of mammoth tankers and began to study hydrography and oceanography. He made intensive studies of the harbours along the North Sea and Atlantic Ocean.The results of this is nowadays used in Great Brittain, France and especially Germany.

Besides paintings, windows, sculptures, he has designed and made majolica-plates and woodcarvings.
---
Er is een boek verschenen over het leven en vooral het werk van Jan Dekkers.
Nadere informatie, prijs en bestelwijze kunt u hier verschijnen hier vinden.
---